What Is the Best Adjustable Mattress Base? Read Our Best Adjustable Base Reviews
As pricey as they might seem, you can actually get a great deal on an adjustable base for your mattress, if you don't need all of the bells and whistles. When it comes to shopping for and selecting an adjustable, flexible, or articulating bed base, most folks tend to get caught up in the appearance and design of an adjustable bed much like they would when shopping for a TV or major appliance, and forget to spend time making an educated decision on why they need an adjustable bed and incorporating those needs into their purchase.
Remember one thing- it's much like buying a car. Most of what you're paying for, you can't see. And manufacturers are very clever about skimping on materials and spending more on curb appeal that the real deal.
Adjustable bed bases vary greatly, with more and more manufacturers designing sleeker, less clunkier versions than the old "Craft-Matic" variety with which we are all familiar. Also, our aging baby boomer population has discovered the benefits of having an adjustable bed, which can be inclined to help with everything from back and neck problems to managing acid reflux issues.
But even more interestingly, younger people are buying adjustable bases to make their bed more media friendly. They look cool, have race car lines, upgraded fabrics, sleek legs and all kinds of tech stuff, if you want it.
Whether you're a video gamer, serious reader, TV or movie buff, or simply need to elevate your legs after a vicious workout, an adjustable base turns your horizontal bore into a flying, flexible, fun, and functional, media machine. All age groups can have back and neck problems, either from the result of trauma, surgery, or occasional kinking, and there's nothing more pain relieving or relaxing than being able to precisely adjust how your body is floating in space to get the relief you want.
Adjustable bases are also easier to transfer in and out of than most conventional mattresses, and can often be raised or lowered by merely adjusting the leg height, or by purchasing different leg and caster combinations, making them extremely versatile.
Here's our advice on looking for a good deal, and making an educated purchase on an adjustable base. We're going to assume that you already have a mattress that will work with an adjustable base. Without question, the best kind of mattress to use is some kind of foam or air bed mattress. Innerspring mattresses simply do not have the flexibility, or tend to "pop back" when the base begins to fold, elevate, or raise/lower.
Latex, memory foam, and air beds that are properly designed for use with adjustable bases make the best choice, since they have the flexibility and weight to stay put as the base adjusts.
It's What Underneath That Counts – A Solid, Sturdy Chassis, Or Superstructure
When you walk into a brick and mortar store, what is the first thing you see when you look at a typical adjustable base? The pretty exterior fabric, the sleek looking remote controls, that's probably pretty much it. And remember, the salesperson is keenly aware of the fact that a typical customer is clueless.
They want you to see the curb appeal, not be concerned about what's under the hood. Armed with the right tools, you can stand on the same level playing field with your salesperson, and feel confident that knowledge is power, giving you a bit of an upper hand when shopping for this rather pricey bedroom accessory.
Without question, the most important element of an adjustable base is the superstructure underneath. Usually, this is a steel frame consisting of two rails that the carriage of each adjustable base section rides upon.
These rails are attached to either a plywood or solid panel deck surface over which a series of layered upholstery is applied, and then the entire chassis is wrapped with a foam rail system forming the outside edge, or perimeter.
The dead giveaway on the quality of a unit is the lifting capacity, that is the heaviest weight of a person and a mattress that the unit can lift routinely. Typically, on a queen base, for example, the average lifting weight on a half way decent unit will be at least 700 lbs.
On a higher end adjustable base, the lifting capacity is often up to 850 lbs. on each side, indicating that the unit is made with stronger motors, heavier steel chassis, and also a heavy duty, plywood base for the platform, rather than particle or fiber board. For example, oneThe L&P base is made in the USA, which is a plus, since they operate a network of certified technicians that can repair units as required. An imported system will not have the infrastructure to help you if a motor, a piston, or a guide rail mechanism failed on the base.
The motors that operate the movement of each panel of the base (there are typically 3-5 panels that articulate, allowing the base to assume an infinite number of angles and positions) are attached to the underside of the plywood decking. The mechanics, including the wiring harnesses and massage motors, are also attached to the underside of the deck.
Most important feature of an adjustable base: the deck system, that your mattress will actually sit on top of. I like to see plywood or a strong composite surface that is thicker than 1/2″ to allow for resistance to warping or flexing, and to insure that attached elements are permanently fixed over time, don't shake loose, or don't simply fall out over time because there wasn't enough thickness for a screw or hardware fixture to grab onto.
Motors on the underside, which operate the lifting elements of the unit and massage features if applicable, should be UL listed and rated, and look for practical high tech bells and whistles too, like app features for phones or tablets, USB charger ports on either side of the bed (like the ones found on some of Leggett & Platt's biggest selling models). Also, programmable memory positions are nice, especially if you have one or two favorite sweet spots.
Massage feature, yes or no? We generally say, nah, not worth it…but technology moves forward as we know, and that asset in an adjustable base is getting better. Not just jiggling, but pulsing and deep penetration motors that can deliver a massage "like" quality. But, in general, it's not quite there yet.
Problem is, on a really nice unit with lots of features, it's going to be on the unit anyway, so you may not have a choice as to whether or not you can leave it off. Fun to play with, and on occasion, you may find a massage feature that offers some benefit.
Modular Design Makes It Easy To Replace Parts And Maintain Your Adjustable Base For Decades To Come
Probably of equal importance in general construction with an adjustable base is whether or not the base is built with a modular mindset, to allow you the end user, to remove parts and pieces that fail, and plug them back in again. Down the road, when the front end "full replacement and full labor" coverage has gone away in your warranty, and you need to replace a motor, or a piece of wiring, or a hinge, the more modular the system is, the easier it is for you the user to either replace the part yourself, or find somebody immediately.
Best brands for modular systems and ease of interchanging parts and components: Leggett & Platt, made in the U.S., and Ergomotion, imported, but a really well made unit using heavier gauge steel for the undercarriage.
I have familiarity with both of these manufacturers, and would rank them equal in quality. Leggett and Platt systems offer a nationwide service network of mobile technicians, and in their warranty, for a full year, you get free in home labor and parts, not found in imported systems like Ergomotion and others, where you are essentially responsible to handle all issues with parts-including being your own repair man or woman.
Ergonomics and understanding sizes-split king, queen, etc.
From an ergonomic and ease of operation perspective, look for remote controls that are wireless and back lit when touched, so in the middle of the night, you can operate them with ease. Also, if they are too small, they tend to get lost…sounds silly, but if they are larger, they get lost less.
Also, a good ergonomic feature to consider is how versatile the adjustability features of the base are. Zero gravity positions are popular, but there are no "pre-set" miracle positions that work for every user. You'll likely hit the Zero G button, and then tweak the bed a bit to get it just right for your body. Also, get a wall hugging unit. This is an adjustable base that you can park right up to the wall, and it will operate in full range of motion without moving the unit.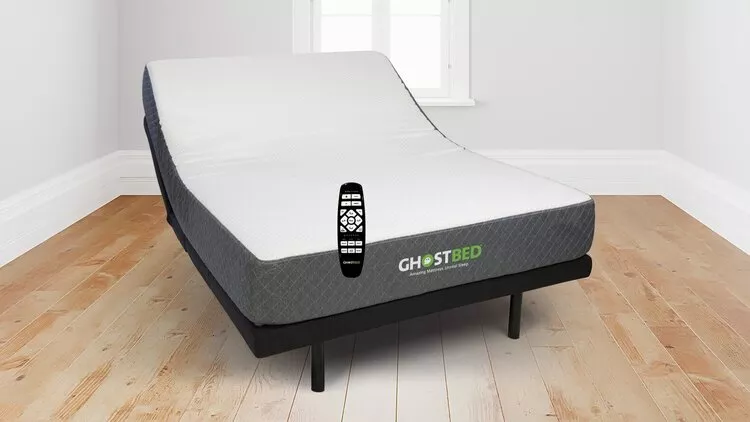 A "wall hugger" feature with any adjustable base simply means that you don't need to move the unit and you can even install a wall mounted or even base mounted (on many models) headboard on your system to really give it a traditional bedroom look.
Typically however, though, footboard pieces cannot be installed on an adjustable base.
Note that all systems typically include legs, which attach to the underside of each unit. So, a split king will have eight legs, four on each side. There is also a connector strap which snugs up the two units as well, to minimize gaps and crevasses between abutting units.
Another often left out feature is the legs or casters. If you are putting your base on wheels, test the unit out in the showroom, or if you are buying one online (the most popular way to but an adjustable base these days), make sure the wheels are at least 3", and the caster legs are steel, not aluminum.
If you love tech and are texting or browsing online, charging your gear, look for a model with built in USB ports, massage feature, LED down lighting, a back lit remote control with stand, and apps that allow you precisely monitor sleep hygiene and other features.
Weight capacity is often indicative of a quality unit, also, and our rule of thumb, look for at least 700 lbs total max weight capacity on each side, although much higher weight limitations are typically seen on units these days.
A split king adjustable mattress setup and base is shown at right. Two separate remote controls operate the features of this system, each controlling one adjustable base on each side of the setup.
There are two twin long mattresses that when placed side by side, make up a king size unit measuring 78" x 80". A split king adjustable mattress and base allows independent control over each side.
Each twin long mattress measures 38" x 80", and two separate fitted sheets are required. Owners have the option whether or not to use two flat sheets on top, or a single king size flat sheet to cover the entire span of both mattress units.
One element of confusion with sizes when purchasing adjustable bases is deciding upon a split system vs. non-split, and note that this applies to several sizes. Split systems require both two side by side separately articulating decks so that each side operates independently, and comes in handy if either you or your partner suffers with GERD or sleep apnea. Split adjustable bases also require TWO SEPARATE mattresses as well IF you are going to operate them as separate beds..
However, WHENEVER you buy a king system, the set is always going to include two side by side units, but if you choose to sleep on one mattress, meaning no independent adjustability on either side (you and your partner ride up and down together), you do what is called a "sync" which typically be done with the included remote controls to insure that both split units now operate together as one system, both moving in parallel at exactly the same time. Here's a chart showing all possible configurations of an adjustable base system.
Simply remember that if you want your own separate adjustability on each side, you need two "split mattresses" to go along with the base(s).
before you consider a split queen or split california king, read this…
After selling adjustable bases on two separate web sites for almost 20 years, I learned an awful lot about what to recommend to customers…and what not to. A lot of taller people swear by their California King mattresses and although you do get an extra 4″ in length on top of a regular king (80″ long), you sacrifice on width.
A regular king one piece mattress is 76″ wide, while a California King is only 72″ wide…which doesn't sound like much, until you start considering a split California King. A Split Cal King consists of two separate pieces a mere 36″ wide each.
I know, it's only two inches less than a regular split kings, which give you 38″ each on width, but, incredibly, it makes a difference. If you can possibly do a split king in lieu of a split Cal king, go for it. Same applies to a split queen. Larger folks have a harder time on a split queen, because when you divide a 60″ wide mattress into two pieces, you're dealing with a very cozy 30″ side on each side.
To test it, get out a tape measure and apply it to your existing mattress to see if you can make a much smaller width work for you. Factor in different positions, back, side, and sprawling.

Which Brand Is The Best? And Where Should I Buy Mine?
There are many brands to choose from. So, which one is the best? Some are very well known, and respected in the industry. Brands like Leggett And Platt, Ergo Motion, iComfort, Tempur-Pedic are all well known, slickly marketed, but vastly different in quality and performance. Several online mattress companies now offer adjustable bases with their mattress lineup, and several are worth taking a look at, including the GhostBed adjustable base, featured in our recommended list of trusted dealers.
Generally, though, in the last few years, the adjustable base industry has become so competitive, that for a decent brand, you can expect to pay $1800-2200 or LESS for a queen size unit, probably with free setup thrown in. Many mattress suppliers want you to order an adjustable base with your mattress purchase.
One thing to keep in mind is that these units can be very heavy, so we recommend systems that are shipped broken down into smaller components, like the GhostBed system we recommend below. One of two people can easily setup these systems in about an hour using the tools provided with the adjustable bases.
Again, as far as delivery and installation options, believe me when I tell you that these systems are heavy and cumbersome in most cases, as they should be. Most systems are made using a steel chassis which is much like the underside of a vehicle. You don't want to set these things up on your own, unless you've got a couple of sturdy guys with the right equipment. Look for a dealer that throws in free setup service.
Warranty, Guarantees, And Trial Periods: look closely
Warranties vary greatly within the adjustable bed industry, but they do follow general patterns. Most of the reliable, big names, like GhostBed, Leggett & Platt, Reverie, and Ergo-Motion offer good coverage on motor replacement for at least a full year. If anything is likely to fail with a base right up front, it will be one the motors, or an electrical problem. If they don't fail quickly, they likely will never fail. Most major suppliers offer full coverage on parts AND labor for at least a year.
Keep in mind though that many high quality imported units are out there, and may be substantially less expensive. That shouldn't scare you off, just make sure you get a decent warranty with the unit, and since most components are fairly bulletproof or at least modular and replaceable by the end user (you), definitely consider systems that are less expensive. I personally love the idea of having a stateside service network though, so if you aren't handy or technical, I'd say stick with a brand like Leggett and Platt.
Adjustable Bases We Recommend After Testing And Reviewing
The Emma Powerbase 1.0 is a great option to provide a full range of motion with your Emma Original Mattress. At $949 in queen, it offers outstanding features ordinarily found in adjustable bases that sell for $1,200 or more. Includes the following features:
Wired remotes, easy to read
Head elevation
Shipper friendly- delivered to your door, 1 box
Compatible with most mattresses and headboards
Power outage protection wherein the base can be brought back down to a flat position in case power is lost
12" stackable legs
Powered by Ergomotion electronics and motors
Though there are a lot of adjustable bases in this price area, few are made by Ergomotion, which uses heavier tube steel, sealed motors and hydraulics, and is the world's largest producer of quality bases.
---
The Emma Powerbase 2.0 is an upgrade from the 1.0 Powerbase, and sells for $1199 in queen size. You'll get the following features on this adjustable base.
Ergonomic and relieves pressure
Head and foot elevation
Two high-power, low noise massage motors
Foldable frame and stackable legs for easy storage and heigh adjustment
Wireless remote
Compatible with most mattresses and headboards
Power outage protection wherein the base can be brought back down to a flat position in case power is lost
Shipper friendly- delivered to your door in 1 box
Powered by Ergomotion electronics and motors
---
The GhostBed Adjustable Base
My #1 recommendation for an adjustable base, the GhostBed adjustable base is a best in class, fully accessorized and easy to assemble adjustable base that costs just $979 in queen, ships free, and arrives via FedEx in 2-5 business days. The GhostBed adjustable base includes a lifetime warranty and a U.S. based customer support team readily available if you need them.
I've assembled dozens of adjustable bases as a reviewer, and the GhostBed system is by far the easiest to setup. The packaging is unique, arriving in a manageable box with everything you need tucked inside the folded unit, including legs, remotes, and all of the hydraulics and motors are pre-installed and ready to plug and play.
Essentially, GhostBed's product is designed for ease of setup with no surprises. The unit is fold over on itself inside the shipping box, and opens up much like a briefcase, with all of the components, steel legs, motors, remote controls, and accessories neatly packed inside the interior to avoid getting damaged. There are no tools required to setup the base, and assembly time is about 45 minutes. You can watch the assembly video here.
Use your own headboard and footboard if you like, as they easily attach to a universal bracket mount already included with the base. Here's a link to the GhostBed Adjustable Base Assembly Manual if you want to check it out, ahead of time.
You can use the wireless remote control to position your bed any way you like, while enjoying simultaneous head and foot massage.
Choose from 15 whisper-quiet massage modes—drift off to sleep with a comforting head and foot massage

Easy preset positions for lounging and watching TV

Experience zero-gravity mode—feel weightless with just the touch of a button

Charge your devices in bed with USB ports on each side

Never stub your toe in the dark again, thanks to soft, glowing under-bed LEDlights!
Benefits You'll Get From Owning A GhostBed Adjustable Base
Relieve Acid Reflux: Lying flat can cause stomach acids to move to the esophagus, which is what leads to acid reflux or heartburn. Elevating your upper body by 6 to 8 inches helps prevent this.
Reduce Asthma & Snoring: Straight, horizontal sleeping can restrict your breathing passages and block air from reaching your vital organs. Adjustable beds help open your airways, may prevent asthma attacks during sleep, and may even reduce snoring throughout the night.
Alleviate Insomnia: Tossing and turning all night? It might be just because you can't get comfortable. With an adjustable base, you can select the ergonomic position that works best for you. Finding the right elevated position for your body can dramatically improve blood circulation and oxygen levels, alleviating insomnia and leaving you with nothing but zzzz's.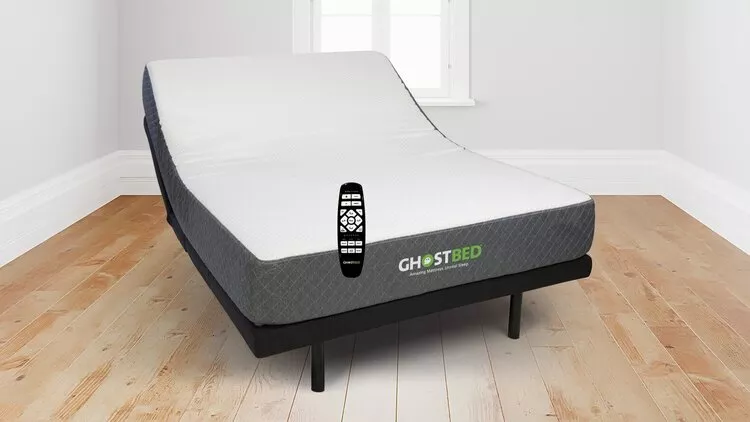 exceptional features, fair and honest pricing, and stellar service.
The GhostBed Adjustable Base is exceptional, in that the entire frame is made of hardened steel with a sleek black matte finish. Your mattress won't slip forward when you adjust your base because of the built in retainer bar at the foot of the base.
The surface of the base is covered with a non-skid surface, firmly holding any mattress in place. Six tube steel legs are included with each base, and they are 12" tall each. If you need the base to sit a bit lower, you can purchase optional 6" legs for a small fee.
The wireless remotes are backlit, and the adjustable base itself includes an LED lighting system mounted underneath the mattress, making night time bathroom visits safer. There are three pre-set positions on the remote control, too, including TV watching, Xero-Gravity, and Lounger modes. For devices, each base offers USB ports on either side. Each GhostBed adjustable base includes two massage motor units and optional pre-sets or manual massage settings. Everything you could possibly want in an adjustable base is included!
Delivery is a snap, and the system is designed so that one person can unpack and setup an adjustable base with ease. If you order a GhostBed mattress along with your adjustable base, you 'll receive several boxes. The GhostBed adjustable bases arrive in one box in the case of queen, full, or twin regular sizes, and if you order a king, you will receive two boxes, each containing one twin XL base unit that will be set alongside the other unit, forming a split king setup.
One of the reasons I singled out the GhostBed Adjustable Base is because the company owner, Marc Werner, thinks like I do. He started his company because he couldn't find a mattress that worked for him after neck and back surgeries and endless years of pain.
From the ground up, the company began with one mattress, The GhostBed Mattress, then proceeded to develop three other models, including their Luxe, Flex, and finally their GhostBed 3D Matrix model. You can order any of them along with their adjustable base and get bundled pricing too.
Their adjustable base is well thought out, and it's durable also, having an astounding weight capacity of 750 pounds on each side! After reading hundreds of reviews from actual owners, another quality I found that people enjoyed was how quiet the system is. I have sold Ergo-Motion, Tempur-Pedic, and other models, and have always noticed a slight squeaking or mechanical sound with these units, but the GhostBed Adjustable Base is truly silent running. Check out the GhostBed site today and tell them Marc from The Mattress Buyer Guide sent you!
---
The Podium Adjustable Base: Turn Your Bed Into A Spa Experience! Exclusive To Canadian Customers Only
Canadian customers are always asking me where they can find an adjustable base, since most brands made in the U.S. do not ship to Canada. It turns out that there is an outstanding adjustable base brand made right at home in Canada called Podium.
They offer a reasonably priced adjustable base that has an unlimited range of positions for both head and foot sections, has a massage feature, and even offers a "zero-G" position that properly suspends and supports your body on the base.
And, it can be used with any of the mattresses we recommend, including the Logan And Cove, The Douglas Memory Foam Mattress, Juno, Brunswick, Recore, and Slumbr Mattresses. Visit our Trusted Canadian Mattress Dealers Page to learn more about the best mattresses sold in Canada.
I'm pretty picky about adjustable bases because I've recommended many imported brands that are simply not durable, usually because of an inferior tube steel used, or poor quality hydraulic systems, but the Podium brand is a solid workhorse- a real tank. I'm not going to lie, you'll need some help (get your best buddy who has a little muscle) to set it up, but it's really simple and can be done in about 20-25 minutes.
---
You can use any of the mattress options we recommend on our Trusted Canada Mattress Dealer Page, too, as they will easily flex and bend along with a Podium adjustable base. There are a few quirky things you need to know about a Podium adjustable base that are pretty typical with most brands found elsewhere.
For a full or queen size, the base arrives as one unit that will accommodate your mattress. For King size, though, you'll receive two separate adjustable bases that sit side by side, and you'll need to "sync up" the two bases so they work in unison to easily lift one king size mattress.
---
Let's talk about the features that you get with your Podium Adjustable Base System. Note that each base, regardless of size, is always shipped with a remote, an instruction manual, adjustable legs so you can control the height of the base from the ground, and is delivered to your door via FedEx freight.
Features and Benefits Of the Podium Adjustable Base Available Exclusively in Canada
I've reviewed dozens of adjustable bases, and I've sold them on my own web sites as well, so I have a unique perspective and ability to tell you very quickly..whether a product is merely "meh" or really fabulous. The Podium Adjustable Base is one of the best adjustable bases I've reviewed. and it offers every feature that you'd expect on systems costing $2500 and up. Further, the weight capacity of each base is 650 lbs., due to its solid tube steel construction.
Let's size up the Podium system and see what you get. In queen, the Podium Adjustable Base is just $849, and for the split king setup, both pieces are $1449, with free delivery.
Zero-G position: Replicating the same pressure-relieving posture used in luxury cars and space shuttles, designed to properly cradle and suspend your body weight in such a way that pressure is evenly distributed.

Precision power lift: Adjust the bed's incline to the exact degree you need, with smooth, glide-like operation, using a palm size wireless remote control

Multi-function massage: Three vibration settings from gentle hum to active rumble; independent upper- and lower-body controls. It's the best massage feature I've seen on an adjustable base, and digs deep, not just a surface vibration.

Quiet motor: Whisper-quiet operation for minimal disturbance..I mean, dead silent running.

Local tech support: Canadian-based care team and service technicians. Not an online chat service 5,000 miles away. I hate that!

Designer versatility: Able to fit within most open bed frames; neutral charcoal upholstery for colour coordination. You can use it along with your headboard and foot board, as the unit simply drops inside the side rails of your bed, assuming there are no slats or other structural members blocking access.

Integrative Technology And Power-Up: Wireless remote; 4 USB charging ports; 90-degree wall plug.

Wireless Remote Functions

Precision Lift & Lower

Upper & Lower Body Massage

One-Touch Flat Reset

Zero-G Mode

Safety Lock

Included Coverage:

Visit their highly detailed

Warranty Page

for a complete summary of the Podium warranty.

2-Year Full Service Warranty

5-Year Full Parts Warranty

10-Year Limited Warranty

Weight Limit
Easy Set-Up – If you go the Podium site's home page, you'll find an awesome video up top that basically takes you through the details about setup, features, location of the USB ports, and an overall impression of how well made the Podium Adjustable Base is made. Assembly wise, owners who actively reviewed the product enjoyed the easy assembly and setup, and felt like it made them appreciate and understand the inner workings of their Podium Adjustable Base. Despite the fact that the company does not offer full service, white glove setup service (which you'd likely pay $150-300 for), it's pretty easy to set it up yourself.
Great Remote Control – The battery powered, wireless remote control is very easy to use, and each button is clearly indicated with arrows and highlighted images. Even better, there are only 8 buttons, not dozens that I've found on many older adjustable bases. People who get intimidated by TV remotes with dozens of buttons can relax and appreciate the minimalistic design.

Bonus Tech Features – USB ports, massage settings, and preset positions are all included in the remote unit. If you spend a lot of time in bed, you'll love how easy it is to keep your body positioned, reduce pressure points, promote better spine alignment, and improve your sleep hygiene and restorative sleep.
Podium Adjustable Base downsides
While I absolutely love the Podium Adjustable Base, there are a few bullet points you might want to be aware of:
Canadian Shoppers Only – I want to make it clear that Podium is strictly a Canadian company and this base is exclusively shipped to Canadian shoppers. American shoppers looking for an adjustable base should check out the my adjustable base page where we recommend the GhostBed Adjustable Base.

No White Glove Delivery Setup Option – While assembling this base is very simple, keep in mind that it weighs over 200 lbs. and you will need some help. Get a friend, or maybe two to help you unpack and handle the frame work. Putting it together is simple, but the initial handling and moving stuff out of the box is where you will need help. This is why I strongly suggest enlisting the help of some friends before you unbox your base.

No Trial Period – No trial period is offered with this base, but- that is pretty typical when you buy ANY adjustable base. Essentially, when you buy one, you own it. But fear not- I sold literally tens of thousands of adjustable bases in my career as a retailer, and I can tell you that virtually every owner was head over heels over the benefits. Just like a puppy, it delivers so much love, there's no going back. Podium adjustable beds can be returned within 3 days of delivery in their original, unopened packaging.