The Best Mattresses For Sex
Whether you are super sexually active and start your morning or evening off with a round of action, schedule nooners on a regular basis, or you are a once a week couple, even a once in a while couple, choosing the best bed for sex takes a little expertise.
You want a mattress that delivers on performance, grip factor, and bounciness (or as I call it, "personality"). Nobody wants to mess around on a dead bed!
"My secret list of mattresses are literally designed for sex. I chose a handful of options out of hundreds that will deliver the goods in bed"- Marc Anderson, 25 year mattress industry CEO and veteran
It's something you don't want to ask a salesperson in a retail store, and you may not even want to chat about it on an e-commerce site, but everyone wants to know all of the details.
"So, Bob, we're looking for the best bed for sex", is not something a mattress salesperson hears very often.
After spending 25 years designing and building mattresses, I quickly learned that a large part of the appeal of buying a new mattress has to do with sex.
And I don't mean just younger couples, oh no, I'm talking about everybody from 20 to 80. Damn right.
As a mattress designer and manufacturer for 25 years, I can tell you that the field of options gets narrowed down pretty fast for this category.
There is really just a handful of mattress types that are ideal for sensuous, cuddly sex- or outright ba-donka-donking. We'll shown them all to you below.
I'm going to explain why there are just a handful of mattresses actually designed (but not overtly advertised as such) as mattresses built for sex.
The components, textiles, overall thickness, and the plushness all add to the mystique of the perfect bed for sex.
Another key factor that many customers I spoke with through the years had is how discreet, or quiet, a mattress needs to be during sex.
Many mattresses can actually make noise, especially those with coils, but more importantly the substrate that the mattress is sitting on top of is worth serious consideration as well.
If you have kids, live in close quarters with roommates, or you're in the apartment above and don't want the plaster on the ceiling below you to fall on top of your neighbor, even choosing the right base, or foundation, is mission critical to keep the equipment in silent running mode.
The Best Beds For Sex By Type
One particular mattress option that was literally handed down from the Gods to deliver pleasure on an unheard of level, is the latex mattress.
Latex is an extraordinary material, and if it's natural latex, it's purely botanical, being nothing but unadulterated rubber.
It's spongy, lively, embracing, you can dig into it and anchor your partner with no worry of that pesky shifting and sliding, and it's absolutely silent.
Natural latex rubber lasts forever as well, doesn't compress, won't dry out unlike memory foam and other ingredients. But the real reason why owners truly love their latex mattresses is simply its lively, bouncy nature.
It also helps with pressure points and cradles your body better than memory foam or coils alone. When you stack latex on top of a pocketed coil layer, too, you get better support, more restorative sleep, and edge support.
If your sex menu includes going at it near the edge of your mattress, a hybrid coil option is your only best bet.
Natural latex is also the easiest mattress material to move around on, is extremely durability and won't compress, mash down, or develop gulleys like most petroleum based polyurethane foam beds are known to do. "You don't get that ditch in the middle of the bed over time." says Chris Winters, a respected sleep expert.
If you want to learn more about latex, especially natural latex, check out our in-depth page on latex mattresses.
Memory Foam- Another Great Option For Hot Sex
While natural latex is grippy and bouncy, memory foam is more body conforming and has a unique "melt up around you" sensation, making it a tight second for the perfect bed for sex.
For missionary position, prone, even doggy style action, memory foam is a great option, offering good, solid anchoring, very much like latex.
That melting sensation is really sensual, as well, and couples often stick with memory foam after trying it once or twice.
If slipping and sliding on your conventional mattress keeps you from getting the traction you need for really penetrating sex, give memory foam a shot.
There's not as much bounce factor on memory or gel foam, but you'll feel a more restrained and melting in sensation that will not disappoint.
Even a memory foam topper added to the top of any conventional mattress brings new horizons to the forefront of your sex life.
Perhaps the best thing about memory foam that couples report is the person on the bottom isn't going anywhere, so there is little or no sliding and slipping, causing those frustrating pauses that can shut the whole game down in seconds. As an option for the best bed for sex, it's head to head with latex in my opinion.
I'd say they both offer grip and keep you from sliding, but memory foam will swallow you a bit more (no pun intended) and might be a tad more difficult to climb out of, but owners who review them about sex are just as devoted as latex fans.
Our Curated List Of The Best Mattresses For Sex
So, what are the best mattresses for sex, and where can you find them? We've created a selection of latex mattresses and memory foam mattresses that have been carefully vetted by our editor and CEO, with over 25 years of design and fabrication experience.
We've narrowed down a list that began with over 100 mattress options, to just a handful of dealers we would buy from ourselves. Any of these options will increase your level of satisfaction, guaranteed. Hey, and be careful out there!
We reviewed it, slept on it for weeks, and loved it. Simply the best natural latex and coil hybrid mattress out there. This mattress is 11″ tall, cushy, excellent for side sleepers, it loves and lusts after your shoulders and hips. Buoyant, sumptuous, and great for sex.
Individually pocketed coils for excellent edge support. Organic cotton, organic wool, and sustainably sourced pure botanical latex. Solid ten year warranty, 120 night trial. Two free "squishy" pillows you'll fight over. $1199 in queen.
The reviews on this mattress destroy the competition..consistently rated 4.9 out of 5 by actual owners. I built latex mattresses for years and can vouch on quality by this brand. Totally worth the money.
Often owners specifically mention that the level of bounciness for sex is not overwhelming, and the all natural materials built into the pillow top add a sensual, soothing feel.
---
Probably the cleanest, greenest, and safest bed you could buy. Made using only the finest natural and organic materials, including organic certified latex from tree-tapped sources, organic certified wool and organic certified cotton. To you, that means no-off gassing, or ghastly chemical textiles.
Note that this mattress is a tad more expensive, because it's made top to bottom with pure latex only-no springs, no polyurethane foam. Queen $2999.
Made in California in their own factories, a purely American company. The latex used is imported from India, collected by hand, and is the silkiest and smoothest botanical latex available. 
One of the hottest selling mattresses on the west coast, but I'm working to change that. Totally worth the investment, you'll get decades of great times on this mattress.
Owners often go through 2-3 other brands before keeping their Avocado- primarily due to better sex!
---
Pure botanical latex, GOTS certified, uses 100% natural cotton cover, 100% natural wool fire barrier, all at a reasonable price. The mattress is reversible offering two firmness options, medium firm or medium plush.
Overall thickness is 9", you'll get a 120 night in home trial, a 20 year factory warranty, and their bed is completely made in the USA.  
Marc's comments: They focus on delivering top drawer latex at controlled pricing. Flippable, so two beds in one. Good call on this bed-no frills, but super low pricing option. Queen: $1199, no springs, just pure latex.
For the money, you essentially get two mattresses in one. There's no formaldehyde, heavy metals, or other harmful agents in this mattress, so ideal for immune compromised individuals.
Latex For Less uses only purely botanical, hand tapped natural latex which translates to a livelier, plusher, and highly responsive feel.
Owners love the lively yet yielding sensation, pushes weight to the sides rather than down, and for vigorous sex, it's a winner.
---
The DreamCloud Luxury Hybrid Mattress is a 14" hybrid mattress with individually pocketed coils, a quilted cashmere top and is a firmer option for people with back issues requiring more support.
Why I recommend it: It's half the price of Casper and Purple's more basic models, which lack a quilted top section, making them feel mushier and not as supportive. With over, 4,971 reviews, it ranks a solid 4.8 consistently, not easy to achieve- and that's on Google.
I would compare the DreamCloud Luxury Hybrid to a resort hotel mattress because it is embellished with a quilted cashmere top piece (which feels like silk!) and two layers of sink-right-in gel/memory foam.
And for sex, come on, it has a cashmere top! You can even feel it through your favorite sheet, too.
It's slightly softer (but not too soft!) than most hybrid mattress options, but it's what your spine needs to keep oxygen flowing to tissues, by reducing pressure points-but with a more nestled, inviting, and sumptuous feel.
Free shipping, a 365 day no questions asked trial, and a LIFETIME warranty with my exclusive link. Thousands of owners rave about this mattress, and tell their friends and family. Comparable to $1800 coil beds in retail stores.
---
The Nectar Mattress is a well known brand with a cult like following. Outfitted as a gel/memory foam mattress, it also uses CertiPur® non-toxic ingredients, so there are no toxic fumes.
No odor, no exposure to heavy metals. 365 Day Trial, Forever Warranty. Get $300 off with my link, free sheets, 2 pillows, and a mattress protector! Consistent reviews, this bed's one of my favorites.
Nectar is a hugely popular brand with a cult following..for a reason- it's well crafted, made with greener, cleaner components and higher quality premium memory foam. At 11″ tall with great edge support, it's the perfect thickness for the nasty.
---
Still one of my personal favorites. Certi-Pur rated non-toxic foams, excellent pressure relief for side and back sleepers, innovative design keeps you on top with no sink or digging your way out.
For overall comfort, slightly firmer rather than softer, no mushy or sloppy sensation- immediately responsive and easy to turn on, delivers excellent edge support.
Google reviews show it as having a 4.9 Rating out of 5, from a total of 6,572 Online Reviews. It's just $1,049 in queen size, and with my link you also receive free sheets, a pair of pillows, and mattress protector.
I've reviewed these mattresses for years, and owners love them. Sink right in plushness that is very sexy and inviting. A terrific option when factoring in fooling around.
---
The Mattress Is Only Half Of The Magic- Pillows, And White High Thread Count Sheets
First of all, skip the satin sheets. For sex, they are terrible, they make you feel like you're sliding on an oil slick, they're hot, and stick to your skin. Pure cotton, especially something in the 400-600 thread count range, adds a level of sexiness to your whole environment.
They feel natural, they slide gracefully across skin without feeling slick or slippery, and they breathe. They are also durable and crisp in feel. By the way, stick with white. White sheets are fresh in appearance, naturally inviting and sensual, and are a natural aphrodisiac for any bedroom environment.

Just as important as sheets, pillows are often used during sex for a variety of reasons, whether used a wedge, to lift up your partners hips, to hang onto for dear life, or as a helmet when your head is against the wall. Use foam pillows for amazing results, preferably a low profile or contour pillow.
Down pillows are great for sleeping, but foam pillows are practically designed for sex—especially the ones that are shaped like a wedge. "These are made for people with respiratory problems, generally" says Dr. Winter. They're also wonderful for stuffing under your partners butt to give you a better angle for penetration.
more outstanding mattress options for sex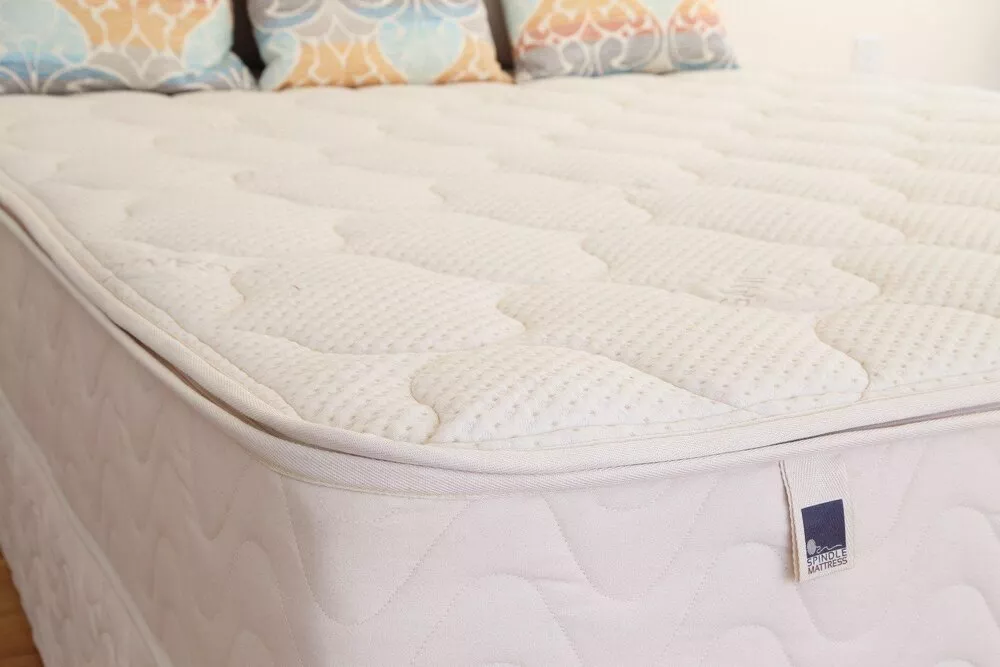 more best memory foam mattresses for sex