Our Industry Expert Reviewed The Best New Year's 2022 Mattress Deals In Canada- So You Don't Have To…
Every brand of mattress I've put on my list is designed to be shipped conveniently to your door, vacuum packaged and rolled, and easy to handle and unpack. Plus, these companies use contactless delivery and COVID protection and sanitizing during manufacture operations. They also offer at least a 100 night no questions asked trial period, use superior components and textiles, and back up their product with decent warranties and genuine user reviews, too.
We even found a company that has designed a mattress for active Canadians, so if you are outside a lot, are a performance athlete, and have found that softer or plushier mattresses just don't give you the restorative rest you need, we've got an option.
All of the mattress options we have reviewed and recommend are similar or superior in design to some of the most popular brands in the States, and use higher quality memory foam, support foam, and coil systems in the case of the hybrid mattresses (coils+foam) we advise purchasing.
Each of the companies we recommend offers a reliable, no questions asked trial period, so that you can have the option of returning the mattress if you don't like it, lengthy warranties that provide protection against failure and unforeseen defects, and all of them are affordable, selling for much less than big brand names that use very similar materials, too.
Because we are the only mattress review site that is operated by seasoned bedding industry CEO's and mattress designers, our recommendations are carefully screened and the options we have chosen all have the following features in common:
Their product is completely made in Canada, typically in small batches, so that when you place your order, you won't get a mattress that has been sitting around collecting dust on a shelf in a freezing warehouse.

Again, there is a focus on greener materials, such as natural textiles for the outer coverings, and the use cleaner foams such as natural latex, certified foams such as CertiPUR-US® rated materials, using low VOC, zero PBDE, heavy metal, or petroleum distillate content containing materials.

Shipping is typically free of charge, you'll get a lengthy, no questions asked trial periods, with free return shipping if you don't love your purchase, and trustworthy warranties.

All of our recommended Canadian dealers have mattress in typical sizes, including Queen, King, and even single (twin) and California King sizes.

Are made and shipped directly from on site factories in either Toronto, Vancouver, or Calgary
The Best Canadian Mattresses On The Web: A Former Mattress Designer, Manufacturer And CEO's Personal Picks
Canada offers a handful of bench built, hand crafted mattresses made in Toronto and Vancouver, that are shipped to all provinces free of charge. Each brand offers a wholesome trial period, a solid warranty, free returns if you aren't in love with your mattress, and highly competitive pricing.
In fact, I find that the Canada pricing is more competitive than any U.S. made product, and you won't have to shipping charges, tariffs, and hassle factor to get them across the border. I say, shop local, Canada! Here are my choices for the best Canadian made mattresses for 2021.
I've thoroughly reviewed multiple options to make choosing your perfect mattress easier. I took my 25 years of experience developing and manufacturing my own line of mattresses in the USA and put them to work for you. Here are my top recommendations in no particular order:
---
For 2022, It's My #1 Choice Again For Best Canadian Mattress Option: Here's Why
The Logan And Cove Luxury Pillowtop Hybrid Mattress is available in two options, medium plush and firm. I think the medium plush version is a bit better at reducing motion transfer.
In fact, most customers buy the medium plush model – about 70%. The mattresses are totally made in Canada in their Toronto and Vancouver facilities.
I've designed plenty of pillow top coil hybrids through the years, and the components used in this handcrafted mattress are of higher quality than typical mass produced imported brands I've reviewed. To get the features that The Logan And Cove Luxury Pillowtop Hybrid delivers offers at under C$1200, even in the states, it's tough to beat.
Killer Reviews Tell the Tale About This Mattress.
Yotpo, a non-partial review platform I respect, gives this mattress option a 4.6 out of 5, with over 2,316 reviews by actual users. I recommend it is an outstanding option for a master bedroom mattress.
The Logan & Cove Luxury Pillowtop Mattress is made up of 5 layers of foam and coils that top out at an overall height of 14". What I really like about the company is that they offer two firmness options, either medium plush or luxury firm.
If you like a nestled or "tucked in" sensation that is more immersive, (more of a melting in sensation), opt for the medium plush. Here are some of the bullet points that actual owners love about the brand:
Ideal for couples, offering a balanced sensation, strong edge support, and no collapsed or trapped sensation when snuggling. Owners say it's the perfect mattress for sex.

Optimized for side sleepers, fills in void areas, delivers lift at shoulders and hips. The pocketed coil component is engineered to elevate and prevent any sink or trapped feeling.

The memory foam and support foam used in the construction of the top layers are similar in density to the recipe I've used in numerous memory foam mattresses I've designed myself, with cooling benefits that move body heat to the exterior sides of the mattress.

No hovering sales people in a retail store. Free shipping, free returns if you don't like it, with zero hassle factor. Try it for 120 nights to make sure you love it.
You can order it in one of two firmness options. The Luxury Firm variation is slightly more popular, feeling very resilient and excellent for anyone with lower back problems. You'll get effective spine alignment without sacrificing "cush" factor from the built in sumptuous pillow top, too.
If you prefer a more "nest-like" sensation with just a subtle amount of immersion and cuddle factor, opt for the Medium Plush variation. Owners love it, and for side sleepers or for curling up, it's easy on your hips and shoulders, too. If you are a person of size, or taller, or even an athletic couple, opt for the firmer model so that you are properly supported along your spine. Often, softer beds are not the best choice for couples that tend to stay snuggled in the middle of a mattress.
edge support unlike typical "bed in a box" options
Most "bed in a box" mattress options are really just slabs of foam that don't take into account sitting on the edge of your mattress. Simple things like getting in and out of bed, putting your shoes on, or just lounging can be a real problem for many mattress designs. The Logan and Cove Mattress is specifically designed to provide optimal support all the the way to edge at all sides.
Because the encased pocketed coil system runs to the edge of the mattress, you get excellent support regardless of your body type and weight. Slightly firmer pocketed boils are used in the edge zone, and in body support areas, they are a little bit more yielding and cushier. When on your side, you'll feel less pressure at shoulders and hips, key areas where excessively firmer ingredients are often not calibrated properly.
The mattress features integrated layers of "bio-foam" made using soy based components to minimize the amount of VOC (petroleum distillates) foam in the mattress. There are several layers of memory/gel foam material, designed with "adaptive air channels" to passively ventilate hot air away from the bed.
The pillow top, very much like a duvet piece, offers a plush, temperature-regulating cashmere and silk-blend layer that is breathable, lightweight, and keeps cool air circulating as you sleep. In fact, to be able to buy a queen size mattress right under C$1,200 with these kinds of components is surprising to me, and owners who have reviewed the Logan and Cove Mattress consider it a tipping point for getting them to pull the trigger on buying.
As an upgrade feature, you can order a "premium package" along with the mattress, offering a really nice set of antimicrobial, temperature regulating sheets as well.
You'll get a 120 night no questions asked trial period, with free return if you don't absolutely love it, and a solid 15 year warranty. The warranty covers everything I like to see protected, including sewing materials, workmanship, foam components, textiles, even the recycled steel that are used in the production of the pocketed coil unit.
As an upgrade feature, you can order a "premium package" offering antimicrobial, temperature regulating sheets as well. You'll get a 120 night no questions asked trial period, with free return if you don't absolutely love it, and a solid 15 year warranty.
"Out of 2,551 reviews that we discovered, the Logan&Cove mattress garnered 4.8 out of 5 stars, which is pretty impressive for a coil hybrid mattress."
Looking at genuine customer reviews, we found this mattress to have a serious following and consistently high reviews. Out of 2,551 reviews that we discovered, the mattress was rated 4.8, which is pretty impressive for a coil hybrid mattress.
Canadians ask me all of the time, how can a mattress that has everything you'd want be so inexpensive? the answer is surprisingly easy. Cutting out the middleman and shipping direct from their factories in Vancouver and Toronto eliminates a huge cost factor, literally around $1,000 for The Logan and Cove Luxury Pillowtop Mattress.
I know this, because I actually was a middle man for over 20 years in the mattress business, when the wholesaler (distributor) built in a nice fat chunk. Unfortunately the end user pays for all of the fluff, which can amount to hundreds of dollars. Buying factory direct eliminates this costly chunk of junk profit- and keeps the cash in your pocket.
---
considered canada's favorite memory foam mattress!
WHAT'S INSIDE CANADA'S BEST MEMORY FOAM MATTRESS
Worthy of noticing: The blue gel/memory foam used in Douglas' comfort layer weighs less than traditional high-density memory foam (which starts at 4 to 5 lbs/ft3). It has a lower petrochemical volume as compared to conventional memory foam. The lighter material has a positive impact on the environment in the form of a lower carbon footprint while still providing the same tactile benefits of denser foam.
Rated #1 For Motion Isolation out of the memory foam mattresses i've reviewed.
The Douglas Mattress consistently gets rave reviews and when tested, received the highest motion isolation rating of any all-foam mattress tested, beating out over 50 other competitors, based on testing by third-party engineers commissioned by GoodMorning.com, and covered in full detail in this APEGA-stamped report.
This makes it ideal for couples sharing a bed with pets or children, helps set the stage for deeper restorative rest and REM sleep, and also allows for freedom of movement since it has no excessive sinking or trapped feeling. It's a mattress designed to get you to sleep and keep you there, all at a highly affordable price.
According to over 7,922 reviews by YOTPO, a respected third party review platform the Douglas Mattress ranks top in its class of memory foam mattresses and scores a solid 4.6 star rating. We think that's pretty good considering the simple design, the higher quality components, and the relatively low cost factor.
The Douglas Mattress delivers on a solid 120 night no questions asked trial period, a 15 year warranty, and free shipping, too.
---
We used to build mattresses identical to the Juno Bed when our company first entered the e-commerce marketplace. It is light in weight when compared to most other mattresses, especially latex which is much heavier.
This bed will be easy to unpack and transport to your bedroom, even if you are stuck doing it by yourself. The mattress has minimal motion transfer as well, and won't have an excessive "bouncy" feel.
Reviewers describe the mattress as having "balanced firmness" and offering a yielding and nestlike feel where hips and shoulders press into the top gel foam layer. It has what could be described as a medium feel, with just enough immersion to create a nestlike sensation, but not so much that you cannot easily turn from side to side, and when sitting on the edge of the mattress, there is sufficient support for individuals of typical weight. This mattress is not designed for heavier sleepers.
---
The Brunswick Mattress contains a luxurious layer of higher density memory foam (which means it resists packing down and mashing) and is made with a unique fabric exterior. It's reinforced with Canadian-grown hemp fibers that brings a number of helpful benefits to the fabric while also enriching local Canadian farms with industry.
While the individually pocketed steel coil system seems somewhat conventional, it's the individual "piston" like action in this mattress that helps eliminate small pressure points, acting like a set of piano keys supporting your body where it needs the most focused "push back". It allows you to turn with ease, precisely pushing upwards in areas that need support, such as the space between your hips and ribs when on your side, or between shoulder blades when on your back.
An Outstanding Pocketed Coil Hybrid That Delivers Sumptuous Comfort And Pinpointed Back Support – At A Third Of The Price Of Comparable Beds
The Brunswick Mattress features an outer cover which contains hemp fibers to promote a hypoallergenic, clean sleep experience. A plush, lightweight fill is stuffed inside the cover to create a Euro top effect, and the mattress is 12" tall. It can be placed on any conventional hard top foundation, platform bed, or adjustable base.
Two layers of cooling gel memory foam help dissipate heat and let fresh air circulate around the mattress throughout the night. Multi-tempered springs and reinforced perimeter foam help you feel properly supported no matter where you are on the Brunswick mattress. Order here and get our factory direct pricing today!
---
The price on a queen Recore Mattress is a comfortable C$999 with free shipping, a 120 day trial period, and a solid 15 year warranty. The icing on the cake with this performance mattress is the silver infused anti-bacterial outer covering, which can even be unzipped and removed for washing. Silver infused textiles are proven to be antimicrobial, and kills viruses as well. the cover will keep the interior clean, is breathable, and has a comfortable, textured feel.
Better recovery and better performance. Any athlete or fitness enthusiast knows the importance of deep sleep and how essential it is for performance enhancement. A consistent eight hours of undisturbed, fully restorative sleep is crucial for muscle recovery, skill development, memory formation, mental focus, immune function, and appetite regulation. The Recore™ helps provide the necessary conditions for overnight recovery so you can achieve peak performance during the day.
---
Relying on carefully researched materials and architecture, Marc Werner designed a mattress that basically delivers a handful of powerful benefits: pain relief, cool, sweat-free sleep, and reduced motion transfer. I get a lot of emails from couples who are trying to find a mattress that still offers a little bit of bounce and luxury, while at the same time, help them to stay in the same bed!
The GhostBed Luxe Mattress Specs & Features:
13" height; 7 layers of targeted comfort
Cool-to-the-touch, luxurious quilted cover
3″ gel memory foam designed to relieve pressure
2″ GhostBounce foam for comforting, full-body contour
7.5″ supportive core for extreme durability
Medium-Plush feel, about 5-6 on a scale of 1-10, ten being very firm.
Owners describe it as "cloud-like" and offering a "full body contouring" and embracing sensation.
ORDER A GHOSTBED LUXE MATTRESS WITH MY LINK AND SAVE $1,000+ GET FREE SHIPPING TO ALL PROVINCES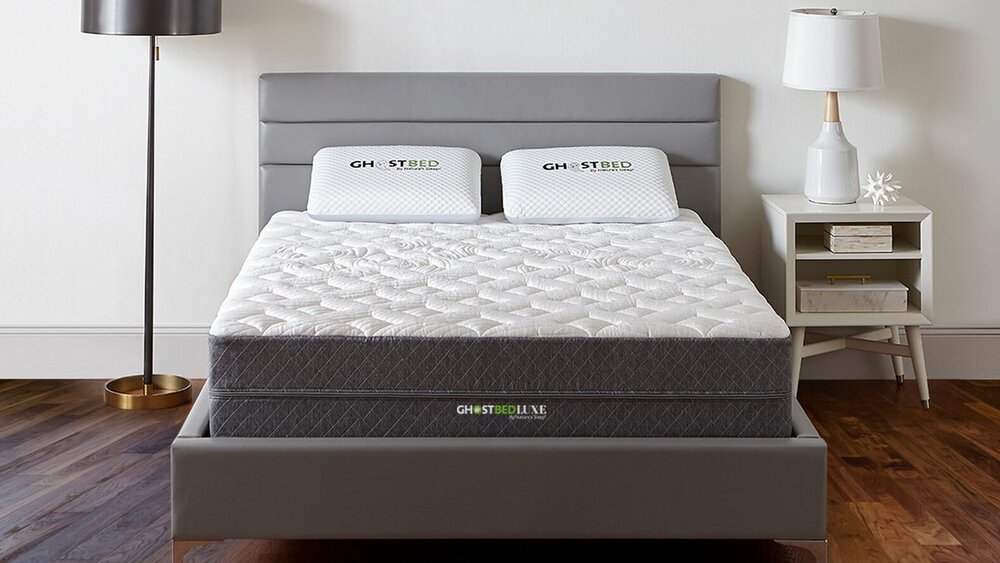 Here's how it's made: First, you melt into it. Up top, a super luxurious quilted top – I thought I was going to pass out when I laid on my sample!
Next, three layers of cooling gel/memory foam, a bounce layer for lift and personality, and a supportive "core" layer (I used this foam myself in my designs for hip and shoulder support).
At the base, a resilient high density supportive foundation that keeps you from collapsing into an abyss.
Your GhostBed Luxe mattress purchase includes a 101 day no nonsense trial period as well. If you don't love it, send an email, and you'll get instant instructions on how to return and get a full refund.
You'll also get a 25 year factory warranty, free shipping from either GhostBed's own Vancouver or Toronto factories. Each Ghostbed Luxe Mattress is handcrafted in Canada.
---
Canadian Sleep Habits Are Troubling, Reports Find
Canadians are having trouble falling asleep and staying asleep and it's troubling – but why is this a bigger problem up north than say in the United States?
A new report released by Statistics Canada provided some harsh morning light on Canadians' risky sleep habits. The study examined more than 10,000 Canadians, between the ages of 18 to 79, over a six-year period, to get to the bottom of the energy sapping problem that plagues many people.
The report provided estimates of the duration and quality of sleep, as well as the percentage of Canadians who followed the National Sleep Foundation's sleep guidelines. Here are some key points of the study's findings you might find surprising:
1. Women have bigger problems with sleep issues than men:
More than 50 per cent of women have trouble getting to sleep or staying asleep. Falling asleep, or sleep induction, is a delicate mechanism that depends upon many physiological as well as environmental factors being in perfect celestial alignment to occur without intervention of sleep aids.

According to the report results 55 per cent of women aged 18 to 64 reported troubles falling asleep or staying asleep "sometimes/most of the time/ all of the time." Only 43 per cent of men reported the same troubles.

Lack of sleep, both duration and quality, is associated with obesity, Type 2 diabetes, cardiovascular disease, injuries, death from all causes, depression, irritability and reduced well-being, the researchers said.
2. One in three Canadians aren't getting enough sleep:
About one-third of those surveyed slept fewer than the number of nightly hours recommended for optimal physical and mental health.
"This group also experiences poor sleep quality more frequently than do those who sleep the recommended number of hours," the researchers said in their report. Researchers also observed that many of the test subjects complained about their mattress being a likely part of the problem, and that replacing their existing mattress was difficult because of either cost, access to mattress options, or lack of education about which mattresses actually promote sleep and restorative rest.
Adults aged 18 to 64 should get seven to nine hours of sleep, while anyone older than 65 should get between seven and eight hours.
3. Almost half of Canadians don't find their sleep refreshing:
Statistics Canada found about 40 per cent of men and 48 per cent of women didn't consistently have a refreshing night's sleep. This is obviously due to a number of factors both medically and environmentally, though not owning a mattress that helps with both sleep induction and staying asleep might be a major cause of the issues.
They also found that one-third of the study responders had trouble staying awake during the daytime. Nodding off during waking hours can be destructive both in the workplace and during family and leisure time.
4. Canadians are getting even less sleep than they were in 2005:
Canadians are getting about an hour less sleep than they were in 2005. Between 2007 and 2013 Canadians got an average of 7.10 hours of sleep. That's in comparison to the blissful 8.2 hours they enjoyed in 2005.
While an hour of sleep may not seem significant, losing it can create a host of problems that create a drag line effect over time, resulting in lost productivity, falling behind in academic or work settings, and creating a constant presence of stress hormones like cortisol the can eat away at organs and create emotional stress that is toxic in all areas of life.
Factors that are often linked with insufficient sleep include owning a poor quality mattress that does not promote sleep induction and deep REM sleep, exposure to artificial light at night, caffeine consumption, work demands, social commitments, and family dynamics, according to the researchers.
5. Women sleep longer than men:
Women slept about 15 minutes longer than men according to the report results. On average women got 7.2 hours of sleep, while men only got seven hours. This may be because women require slightly more sleep to feel well rested, while men can get away with a little less.
Sleep Hygiene May Need To Be Improved With Canadian Sleepers
Sleep hygiene is a broadly encompassing term that defines all of the requirements necessary to provide a healthy and productive sleep environment. Without a good understanding of sleep hygiene, even if you own an excellent mattress, falling asleep and staying in REM sleep (Rapid Eye Movement sleep, where the deepest and most beneficial sleep and dreaming occurs) you will will likely continue to experience unproductive sleep.
You can visit our page on proper sleep hygiene to get in-depth details, but here are some factors that influence just how fast you'll got to sleep at night, and how deeply you will sleep:
Owning a comfortable and supportive mattress that cradles your body and allows for ease of movement to avoid waking you up repeatedly through the night.

Avoid blue light, computer screens, phones, TV's and other devices one hour before bed time.

Dedicating your bedroom for sleep and sex use only.

Avoid consuming alcohol and consuming food several hours before bed time.

Using black out shades, white noise machines, eye masks, and a decent low profile pillow will all contribute to effective sleep hygiene.

Keep kids and pets out of your sleep space. Snoring partners need to be managed with medical intervention or devices if required.
A Decent Mattress Can Improve Sleep Duration And Sleep Quality
Most Canadians who live in larger cities like Montreal, Toronto, or Vancouver, have easier access to retail settings where they can physically try out several mattress options before buying, and then enjoy easy delivery services and mattress removal options as well.
Unlike the U.S., however, finding a great mattress online may be more complex because there aren't as many online "bed in a box" mattress options as there are in the states.
However, there are a handful of online mattress retailers in Canada that offer mattress options which are made using state of the art components designed to improve sleep, increase sleep time, make falling asleep easier, and to provide a more enjoyable sleep experience.
We have created a list of several web based Canadian "bed in a box" retailers (the term given to mattress companies that can compress, roll, and ship their mattresses directly to your door) that make shopping for a mattress easier and more reliable.
The mattress options we have selected are designed to promote wellness, improve sleep, and last much longer than conventional coil type mattresses sold in retail stores.